COUPONS CONSIGLIATI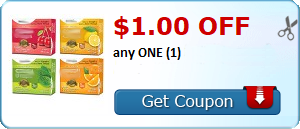 $1.00 off any One (1) Silk Half Gallon
$3.00 off Purina Tidy Cats Lightweight cat litter
$1.00 off one pack EasyStrips 6 in 1 Test Strips
$1.00 off one (1) bottle of AquaSafe
$2.00 off one bottle of SafeStart
$1.00 off one bottle of EasyBalance
$1.00 off On any size of TetraVeggie Algae Wafers
$4.00 off any 2 Beneful Healthy Smile™ Dog Treats
Save 100% when you buy ONE (1) 4 oz. Ben & Jerry's® Mini Cup. Check back every Friday for a new Freebie! .Expires 2/15/2015.Save 100%.
Save $5.00 when you spend $25.00 on Glad Trash Bags, Any Clorox Wipes Product (Disinfecting, Dust & Glass), Any Clorox Liquid Bleach, Any Clorox Toilet Bowl Cleaners (auto and manual), Clorox ToiletWand, Clorox Pump 'N Clean™ Cleaner, Clorox Clean Up Clea
Save 55¢ when you buy any ONE (1) Earthbound Farm® 5oz. Salad.Expires 3/11/2015.Save $0.55.
$2.50 off ONE (1) package of Evergood® 24 oz. Beef Hot Link Corn Dogs
$1.00 OFF any ONE (1) 13 oz. Evergood® Product
$1.50 off ONE (1) package of Evergood® 13 oz. Pineapple Sausage
$2.00 OFF any ONE (1) 13 oz. Evergood® Product. Unlock when you complete 1 Evergood Fine Foods activity.
Questo è solo un aggiornamento sui coupon nuovi/più popolari o che stanno per scadere, per vedere un elenco completo, visitare le pagine dei COUPONS (1 e 2) e la categoria del blog per vedere e scaricare altri coupons.
Disclaimer: some of the links on this website are affiliate links, which means that we may earn a commission if you click on it or make a purchase using the links. By using our affiliate links, you are helping support the Italianinusa.com website, and we genuinely appreciate your support. Our products review are all based on our honest and unbiased opinion, even if we may receive products for free or at a discounted price. Feel free to Contact Us if you want us to review your products, but please note that we dont accept free products or cash just to write a positive review.