COUPONS CONSIGLIATI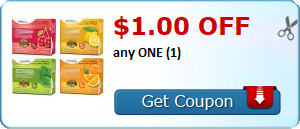 Ecco i nuovi coupon usciti oggi, 24 Febbraio 2015! Tra i più interessanti, segnalo quelli della COVERGIRL, praticamente uno per ogni tipologia di prodotto, e quelli della Schick se utilizzate rasoi (ottima marca, ottimo coupon!). Interessanti anche il 20% off sulla lattuga ed i coupon sul Gold Peak Tea.
NOTA: Questo è solo un aggiornamento sui coupon nuovi/più popolari o che stanno per scadere, per vedere un elenco completo, visitare le pagine dei COUPONS (1 e 2) e la categoria del blog per vedere e scaricare altri coupons.
$0.50 off ONE (1) Egg Beaters Smart Cups product
$1.00 off Glad ForceFlex or OdorShield Trash Bags
$5.00 off two (2) Schick Disposable Razor Pack
$1.00 off ONE COVERGIRL Lash Bloom Mascara
$0.50 off ONE COVERGIRL Product
$2.00 off ONE COVERGIRL Clean Foundation
$2.00 off COVERGIRL Smooth Foundation + Applicator
$2.00 off Schick Disposable Razor Pack
$0.75 off ONE COVERGIRL Lip Product
$1.50 off TWO COVERGIRL Eye Products
$1.00 OFF any TWO (2) Sparkle®
Save 20% on any single purchase of loose, unwrapped Lettuce at participating retailers. See offer info for complete details. Check back every Tuesday for a new Healthy Offer..Expires 3/2/2015.Save 20%.
Save $1.00 On any High Liner® Sea Cuisine® Product
Save $1.00 on any ONE (1) Quinoa product, excluding polentas. Unlock when you complete 1 Quinoa Corp activity.
Earn $1.75 when you purchase FUZE®
Earn $1.75 when you purchase Gold Peak® Tea
Earn $1.00 when you purchase Gold Peak® Tea
Disclaimer: some of the links on this website are affiliate links, which means that we may earn a commission if you click on it or make a purchase using the links. By using our affiliate links, you are helping support the Italianinusa.com website, and we genuinely appreciate your support. Our products review are all based on our honest and unbiased opinion, even if we may receive products for free or at a discounted price. Feel free to Contact Us if you want us to review your products, but please note that we dont accept free products or cash just to write a positive review.